It is proved that using a vibrator will enhance overall sexual functioning, jacking up desire, ramping up arousal, creating more juicy lubrication, and delivering more orgasms.

The amazing thing is, we can actually create and strengthen these pathways—you can literally train yourself to have better, stronger orgasms. Wondering how to use a vibrator to get the most from your G-Spot, or curious about how you can stimulate your G-Spot?
G-Spot vibrators are easy to use, once you discover the secret. G-Spot vibrators are fun to use, give incredible pleasure, can help all genders explore their genitals.
Fapdale will help you enjoy G-Spot stimulation, and explain how and why this hidden erogenous zone can open up new pleasurable possibilities.
Find Your G-Spot
The G-Spot whose formal name is the Gräfenberg spot named after German gynecologist Ernst Gräfenberg, the guy who is credited with first documenting it.

Where is it? The G-Spot is on the roof of the vagina at about 12 o'clock when the woman is lying on her back. It is about 2.5-3 inches in the vagina, directly below her urethra.
Before using a vibrator, you might want to explore your body with your fingers to find exactly where your G-Spot lies - that way you'll know what you're aiming for.
Why A G-Spot Vibrator?
Here are some very good reasons why you need a G-Spot vibrator.
G-Spot vibrators are easy to use. They come in a range of different shapes and sizes but all are designed to stimulate the nub of sensitive nerve-endings that lie approximately 1-3 inches inside the front wall of the vagina. If you are willing to explore the vast amount of G-Spot vibrators on the market, you will find there is something for everyone. It can actually be very easy to find something that you are comfortable with and easy to use. Once you make your purchase and get that wonderful package delivered to your doorstep, you are only steps away from experiencing user friendly sexual pleasure. Ready? GO!
Using a G-Spot vibrator with a partner. It is a great way to show your partner you care about her pleasure. It shows you are willing to go the extra mile and give her what she needs to have an intense orgasm. The old adage about vibrators replacing men and women needing them because men do not know what they are doing in bed is just not true. Anyone can learn to be a good lover. Part of being a good lover is knowing what pleases your partner. Getting a vibrator to stimulate her G-Spot shows you are secure in your sexual ability and do not feel threatened.
A Best First-time G-Spot Vibrator
There are literally thousands of G-Spot vibrators on the market. How to find a best first-time G-Spot vibrator?
The first time when using a G-Spot vibrator it is best to start slowly, making sure you are aroused and well lubricated. You could choose a basic but powerful G-Spot vibrator which has multi speed modes so you can start off slowly with gentle vibrations and then turn up the power once you're used to the sensations.
Indulge in some soft, sensuous solo play or foreplay first to give your body time to relax completely. When your G-Spot is surrounded with dense tissue and lies deep in your flesh, so you may want to use a little more pressure than usual or slide your toy from side to side until you hit the right place. When you hit it, you will bounce with happiness, Boom!
Check out our featured G-Spot vibrators & it's possible to experience a female ejaculation.
G-Spot Clitoris Dildo Vibrator Magic Wand Rechargeable
If you are looking for your first vibrator or want to add something new to your sex toy collection, look no further. This new upgraded G-Spot Clitoris Dildo Vibrator Magic Wand Rechargeable is just prepared for you. Shake your whole house from this G-Spot Clitoris Dildo Vibrator Magic Wand Rechargeable's very foundations with the jaw-rattling judder of the extra-powerful wand.
Rampant G-Spot Thrusting Rabbit Vibrator
An indispensable toy in every woman's collection, this Rampant G-Spot Thrusting Rabbit Vibrator can bring you huge amounts of pleasure. The rabbit of your dreams? Yes, though it's not a dream but deliciously satisfying reality. Choose your settings and feel the powerful purple shaft lunging for your G-Spot again and again while the vibrating ears rocket you and your clitoris to the moon.
G-Spot Licking Double Vibrating Egg Butt Plug
DOUBLE HEAD & DOUBLE FUN. Powerful Double Vibes Let You Play Hard – Together! Feel blown away by the combined pleasure of this G-Spot Licking Double Vibrating Egg Butt Plug.
Vibrating Strapless Strap-On Dildo Double Penetration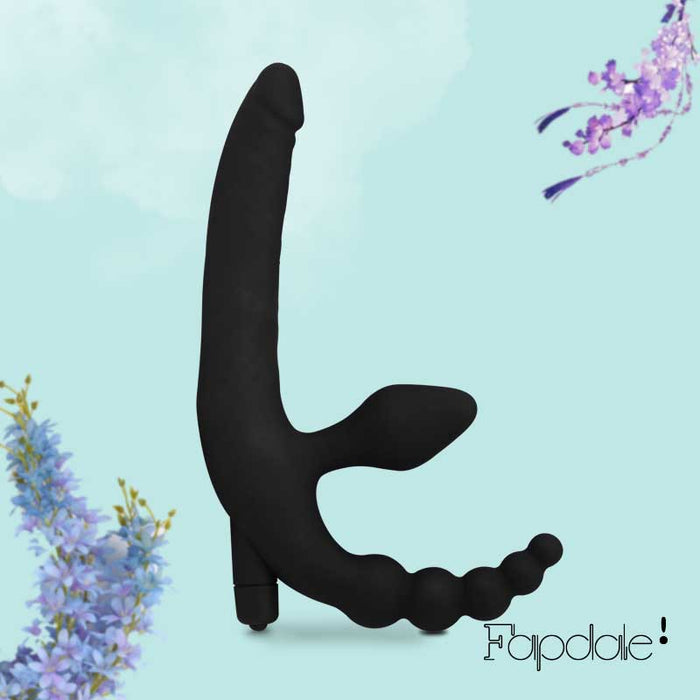 Reinvent your orgasms with double stimulation, thanks to this expertly designed Vibrating Strapless Strap-On Dildo Double Penetration. Worn inside one partner's vagina, the smaller shaft with an adjustable fit so you can angle it for tip-top stimulation. The lovingly textured, longer shaft slides inside to thrill G-Spot and clit. At the same time, burrow into the bliss of anal play with these flexible anal beads.