Reasons you need a penis
When we desire something more realistic, the penis is the best choice. The penis is a very versatile toy that can be used alone or with a partner in many different places, and even with a seat belt.
1. HANDS FREE PLAY
With most insertable sex toys you (or your partner) need to insert and retract the toy. While this is just fine, sometimes we want something a little more organic and natural feeling. Something we can use to really fantasize about being with a man, sitting atop his magnificent penis and just riding until we have a scrumptious orgasm! Here is where a suction cup dildo holds the title for the best toy for the job! Stick it to any number of surfaces – bathtub sides, shower walls, chairs, floors – and jump on and ride! You get to enjoy a more natural feeling experience and no hands needed!
2. EASY TO COMBINE WITH OTHER TOYS
Since statistically 85% of all women need clitoral stimulation to orgasm AND most women prefer a mixture of insertion and clitoral stimulation, using a hands free toy like a suction cup dildo can make delivering this one-two punch MUCH easier! It is hard to navigate a standard dildo and a bullet – we have 2 hands, yes, but to insert and retract a toy AND hold a bullet on our clits can be incredibly hard to deliver. With a suction cup dildo you can position your toy, hop on and have both hands free for any additional stimulations you desire – whether some clitoral play or nipple stim! You can add in additional toys in a variety of ways.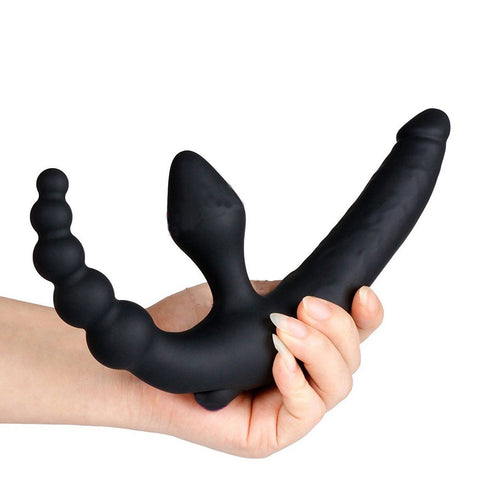 3. FEELS REAL
There are undoubtedly a number of toys that offer a real feel, including many standard vibrators and dildos. However, most suction cup dildos feel even more real due in part to their "natural hang" when attached to a surface. While some suction cup dildos are a bit more rigid, most are not. When you combine the ability for hands free play with the natural hang you get a more realistic feeling toy.
4. THREESOME FANTASIES
Many couples have threesome fantasies, but many men do not want another man anywhere near their partner. With a suction cup dildo you can experience the look and feel of having another man without the need for one. Imagine watching your partner pleasure herself by riding her suction cup stud positioned on a chair. Or, even having her put on an oral pleasure show by sticking the toy to a mirror or the headboard. The combinations and possibilities for threesome-like activities with this toy are endless! Positioned correctly, you can even have some dual penetration! Now that is the way to have your cake and eat it too! Oh, and men, if you are interested in experimenting with a little anal action of your own, this is the ideal way to do it!
5. PRACTICE MAKES PERFECT
We all want to be the best lovers we can be! We want to pleasure our partners effectively. Sometimes women worry that they are not 'doing it right' and want to practice. Perhaps you want to experiment with different moves and hip gyrations. Well, because a suction cup dildo can be stuck to any number of surfaces and you can ride him much like a real man, you can practice! Not only can you practice but you can enjoy yourself while you do! This is a win-win situation for both you and your partner and perhaps you can even show him what you have been practicing for some saucy foreplay!